Our rates start from as low as £12 per month
Driving Instructor Services offers industry-specific support to UK driving instructors to help them run their own driving school, with a full subscription only £118.80 per month. Alternatively, you can cherry-pick from our Call Management and Service Options to create a bespoke business solution at an even more competitive rate.
We are the original, and the best, and ALL our services are "live" and AVAILABLE NOW.
Follow a few simple steps to see how you could improve your business and increase profits: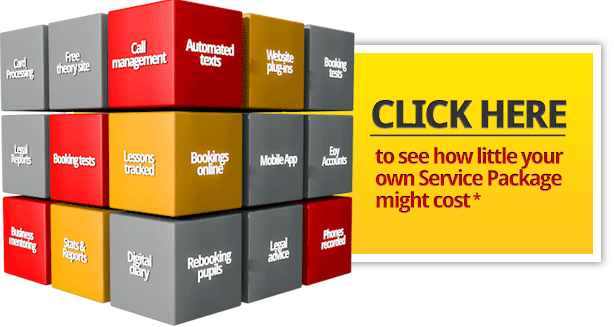 * Price guide is for Sole trader instructors only.
Multi-car schools: Price On Application.
Prices shown are INCLUSIVE of VAT.
Step 1 - Select your preferred Call Management
All
Call management
options provide: Online Office with
Diary-plus
features, Diversion of your own number (to retain the goodwill you build up), and Industry-specific staff to deal with all enquiries. In addition, all calls will be answered in your own trade name between 8 a.m. and 8 p.m., Monday to Friday, (9 til 5 Saturdays), with automatic ring-back if calls missed when busy, and every call is accounted for and all calls recorded.
Select one of the options below then scroll down to Continue to Step 2.
(Watch YOUR CURRENT PRICE on the right to see the monthly charge change with your selections.)
STEP 2 - Sole trader? Tick the Services you want
Choose your Services, then scroll down and Continue to Step 3 to review your package.
(As you add a Service check YOUR CURRENT PRICE on the right, to see your maximum monthly charge. All prices quoted on this website include VAT at the appropriate rate where applicable.)
STEP 3 - Review your service package details